Consultation Charter Workshop
A two-hour 'virtual' workshop delivered by an Institute Associate. The workshop is for a select group of people running through the Charter's principles and what this means for those who work for your organisation. Post-workshop, the Institute Associate will provide a write-up of notes and recommendations to move forward.
Those attending the workshop will have free access to the Charter foundation e-learning course. We recommend participants complete this before attending the workshop.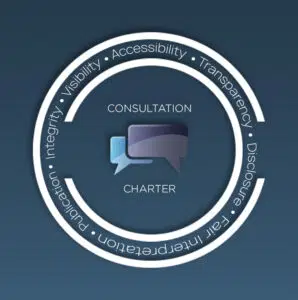 The Consultation Charter represents the fundamental standards that the Consultation Institute believes should apply to consultation and engagement with the public. Once members have completed the (free) Charter foundation e-learning course, they are invited to formally sign the Charter, and publicise that they have done so, as a demonstration of their commitment to the implementation and upholding of the standards therein.
In addition to publishing their commitment on their own website, and in other appropriate public venues, the Institute publishes the logos of all signatories on our own website, so that commitments are publicly visible. If you would be interested in signing the Charter and making your own commitment, please contact the Institute.