Guest Article: Using TikTok to engage younger audiences
Article by Zander Mills, Corporate Communication Manager at South Yorkshire Fire & Rescue
It has never been easier for public services to engage communities – with a glut of algorithm fuelled platforms now enabling organisations to reach thousands of people quickly and cheaply.
But perhaps it's also never been harder for those working in consultation, marketing and communications to understand the best ways to engage their audiences, as the media that people consume becomes ever-more fragmented.
Taking the time to analyse where your audiences get their information from is absolutely key to understanding this shift – and at South Yorkshire Fire & Rescue this approach took us down a technicoloured rabbit hole of lip syncing, dance battles and trending topics we'd never have believed possible a year ago.
Here's what we discovered along the way!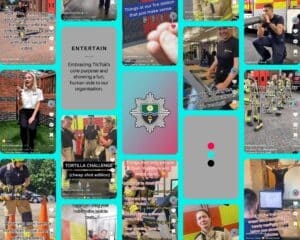 We were failing younger audiences
A quick-fire audit of our existing digital channels in early 2021 uncovered a big gap in our  ability to reach younger audiences. Insights data for platforms including Facebook, Twitter and Instagram revealed an aging audience trend for these social media mainstays.
Our annual residents survey also found that 45 to 54 year olds were nearly twice as likely to feel well informed about their local fire and rescue service as younger age groups.
As a fire and rescue service with a mission to serve all of the 1.3 million people living in our county this gave us a big problem. Particularly because younger people are absolutely key audiences for some of our safety campaigns, not to mention our future workforce.
That's where TikTok came in.
TikTok – it's all dancing teenagers, right?
First thing's first- not everyone on TikTok is young. More than half of users are estimated to be 30s and that's increasing. But it's certainly true that, right now, it's where Gen Z likes to hang out.
It's also true that TikTok started out life as a dancing and lip syncing app Byte Dance – but the platform has now become so much more than that, with whole communities springing up around niche interests. Like to read? Try #BookTok. Enjoy the country life aesthetic? Head to #CottageCore. There really is something for everyone.
Finding your own organisation's niche – and what your audiences are interested in – is absolutely key to using TikTok successfully.
Social, not broadcast
For too long, public services (including mine!) have used social media as a one way broadcast tool. Firing out messages in the hope they hit their target.
On TikTok, we took the decision early on that we wanted to be social– responding to comments, replying to questions and building a genuinely engaged community of people interested in what we had to say.
We think it's this approach that's helped us to build a following of 135,000 people in a year – that's bigger than all of our other social media channels combined.
Serious, not sombre
As a fire and rescue service, we have some serious, life-saving messages to tell. But that doesn't mean we always have to deliver those messages with frowns on our faces. TikTok has allowed us to re-tell decades old safety messages- like the importance of testing your smoke alarm – in a completely new way to a new, younger digitally savvy audience.
Embrace the chaos
TikTok is unlike any other digital platform you've ever encountered and to the untrained eye it feels dizzying to begin with.
Yet to dismiss it as a chaotic mess of bizarre trends and daft stunts misses an important truth.
This is us, 2022.
The world is chaotic. The way people consume information has changed. The type of stuff people find interesting is bizarre.
Our job as engagement specialists, is to work out who to respond to all this in the best way we can for the organisations we serve.
Click here to take a look at South Yorkshire Fire & Rescue's TikTok account.