Book review – Public consultation and Community Involvement in Planning A Twenty-First Century Guide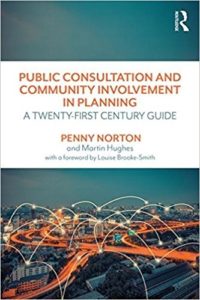 Public consultation and Community Involvement in Planning
A Twenty-First Century Guide
Penny Norton
and Martin Hughes
Routledge
2017
This is a much-needed book!
Partly, the Planning profession needs it because it has not always been as eager to encourage public consultation as our law-makers have intended …
And partly because a wide variety of stakeholders and the great British public are alternatively bemused and frustrated by our over-complex, repetitious, barely comprehensible planning system.
Penny Norton avoids dumbing-down a serious subject and adds value by bringing together in one accessible volume the plethora of structures, issues and standards which cause so much confusion in the first place. This is primarily a reference volume, though her commentaries are useful and insightful. When she notes that 'Cross-boundary co-operation does not sit easily with Localism', she has the evidence to prove it!
The book has assembled an impressive array of almost 100 practical case studies to illustrate how public consultation works in vastly different situations. Penny understands how politics influences practice at almost every turn, from the never-ending Hurculean labours of plan-makers through to the paper factories of consultants seeking consent orders for large infrastructure projects.
There are possibly a few quibbles, mostly on the language of public engagement. It is surely wrong to describe dialogue methods as 'tactics' and she also reflects the continuing use in planning circles of the now-jettisoned term 'hard-to-reach'. The better phrase is 'seldom-heard' and even that's not ideal.
But these are minor reservations. This book is a major achievement and Planning Schools should make it compulsory reading. It needs practitioner-based training in classrooms or online and Penny and her co-author, Martin Hughes need to find a way of continually updating the work to reflect new legislation and case-law.
Society as a whole urgently needs better ways to secure commitment and involvement from local communities when difficult spatial planning decisions have to be taken. It's a massive challenge. But rather than complain about the system, bemoan its failures and argue about alternative models, critics should instead reach for this volume. That at least would help them – and the rest of us do better with the tools and engagement opportunities that already exist.
Rhion H Jones LL.B
Founder Director,
The Consultation Institute