Arnstein Ladder versus Gunning Principles?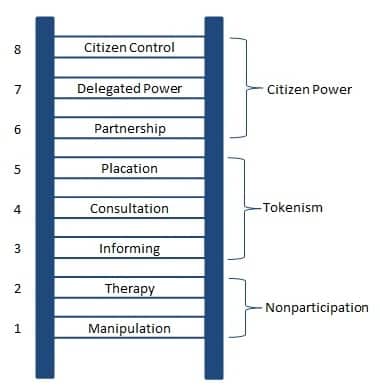 Imagine. A group of consultation professionals have spent the day debating the trickiest aspects of their trade. They are tired and looking forward to a relaxed dinner. Someone brightly suggests a 'pub quiz' by way of entertainment. Mock groans from the company, but they are a good-natured bunch and agree.
The mock groans turn to genuine ones at the first question, " In which year and publication did the Arnstein Ladder first appear?" The teams ponder frantically. A few questions later, "What was the case and year in which Stephen Sedley promulgated his 'Propositions'? Deeper groans.
Amongst those who have undertaken Consultation Institute training we would hope this information should be easy to recall. But they might not have given too much thought to the relationship between them.
Sherry Arnstein's 'Ladder of Participation' originally appeared in the journal published by the American Institute of Planners in 1969. She was director of community development studies for 'The Commons', a non-profit research institute. Her thesis was that if participation did not shift power between haves and have-nots, then it was not genuine. She only placed Consultation on the fourth rung of eight in her ladder, in the Tokenism area.
In 1985, seventeen years after the appearance of the Arnstein Ladder, a botched consultation on the merger of two schools by the London Borough of Brent, found Stephen Sedley QC representing the unhappy parents. The story goes that, frustrated things had gone so wrong, he down scribbled four propositions. To paraphrase: 1. Don't consult if you have already made up your mind. 2. Give consultees sufficient information in order for them to give your proposals "intelligent consideration". 3. Allow enough time for the exercise. 4. Ensure that "conscientious consideration" is given to the consultation responses.
It took until 2001 for the 'Gunning Principles' as they'd become known, to be approved in the 'Coughlan' case. Since then they've been cited in each and every judicial review on consultation and also blessed in the Supreme Court.
So, how can an activity denigrated back in 1969 as "tokenistic" have become so important?
Good consultation, done to the highest standards, is the proper way for decision-makers to hear the voices of those who will be affected by important proposals. In many ways, adherence to the Gunning Principles trumps the idealistic thoughts of an American academic 47 years ago and makes consultation a truly meaningful exercise. Sadly, we do still come across consultations done with a 'tick box' mentality but, beware, they will fall foul of the Gunning Principles if things end up in the High Court…causing great expense of time and money, not to mention bringing the profession into disrepute.
Sherry Arnstein would doubtless have approved of co-production exercises where there is a genuine attempt to share decision-making, and beyond, with stakeholders. However, this too is not without its dangers – look at the case of the London Borough of Lambeth and Cressingham Gardens, to see how careful one must be.
The top of a ladder can be a dangerous place. Realistically, it is not possible for everyone to be involved (or want to be!) and ultimately, in a democratic society pragmatic decisions have to be taken by those best informed to do so.
Our profession has come a very long way and gained greatly in reputation. Please, can we remember that the age of the Arnstein ladder was long ago? The courts will look to the standards introduced in the Gunning case to be upheld where a consultation is in question.
Give yourself a pat on the back and accept the plaudits of your team mates when you can triumphantly produce the answers to the questions at the start of this article, but think carefully before you are tempted to reproduce that image of the Arnstein ladder in your next presentation.