Beware a wholly inadequate definition of 'consultation'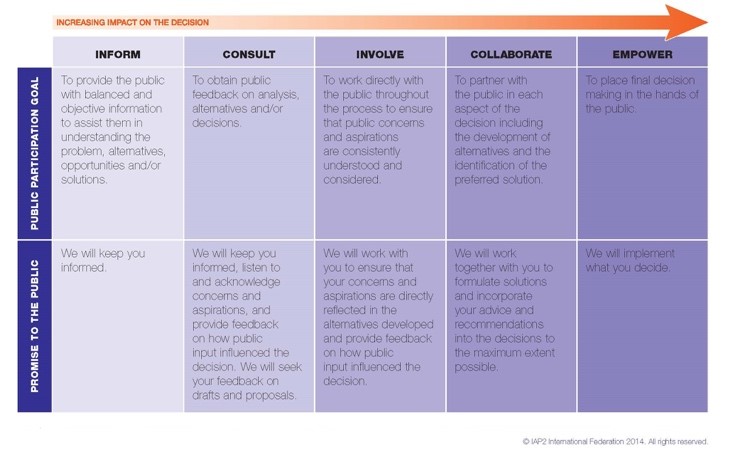 If you are among the couple of thousand public engagement professionals in the UK, wrestling with a serious public consultation from time to time, you may well be intrigued – or even highly offended – to learn that the US/Australia –based IAP2 organisation describes consultation as 'quite a low level of community engagement'
It gets worse. Graeme Stuart, a New South Wales based lecturer then goes on to claim 'Consultation is particularly appropriate when there is little passion or complexity in relation to an issue.' How many of the Institute's members might take issue with that?
The problem of course stems from IAP2's long term adoption of a Spectrum of Public Participation that borrows rather too much from the old-fashioned Arnstein Ladder. Its definition of consultation is at least thirty years behind the times; it says that consultation is merely: –  "To obtain public feedback on analysis, alternatives and/or decisions". It even misuses the term 'feedback'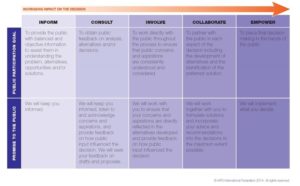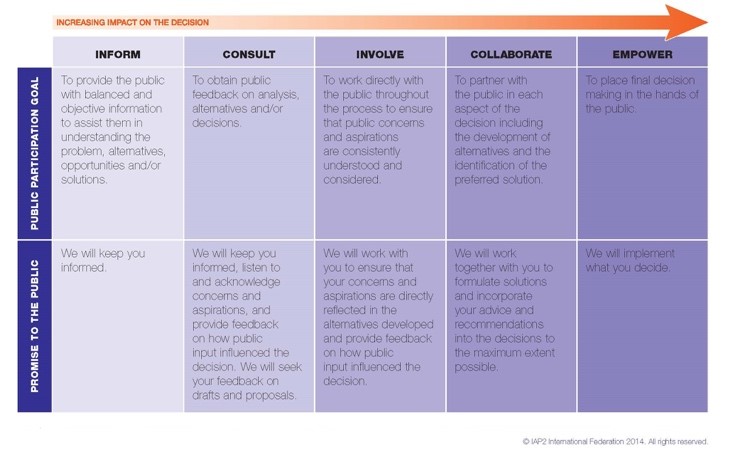 The Spectrum is not entirely wrong. Its lowest level – to inform, as well as the fourth – to collaborate and fifth – to empower are unobjectionable. But examine the description of 'involve', which is described as 'To work directly with the public throughout the process to ensure that public concerns and aspirations are consistently understood and considered'.
Now to UK practitioners, all this would be deemed part and parcel of any best practice consultation. Anyone with the sketchiest grasp of the past decade of Judicial interventions at the High Court know that there are today much greater demands made on consultors to meet the standards of the common law. Strict application of the Gunning Principles and the application of the doctrine of legitimate expectation has rendered the old-fashioned restrictive definition of consultation wholly obsolete.
Since 2004, the Institute has promoted a broader, more realistic definition for 'consultation' 
The dynamic process of dialogue between individuals or groups, based upon a genuine exchange of views and, with the objective of influencing decisions, policies or programmes of action
It is not perfect, but in three important respects it stresses absolutely essential characteristics ignored by the IAP2
The element of dialogue. IAP2 contradicts itself by stating that Consult largely involves one-way communication … although there is still an element of two-way communication. We are very clear that a failure to have a dialogue of some sort makes it difficult if not impossible to generate meaningful data.
A genuine exchange. This indicates that it has to be a quality process – not just going through the motions. And the obligation is on both consultor and consultee to act with integrity
With the objective of influencing. This is probably the most critical function of consultation. Without this, there is little point to it. In fact, involvement, participation and engagement are all terms to describe interactions with communities of some sort. What is different about consultation is that it has a purpose – and that is to influence.
The fundamental weakness of the Spectrum is its haziness over decision-making. Describing consultation as a way to obtain 'feedback on … decisions'  suggests that the process could be after the event. That would be a nonsense. The whole point is for consultation to be a wide-ranging exercise to ensure that the decision-makers have the benefit of informed views by stakeholders of all kinds before they make such a decision.
In the UK environment, politicians and Parliament have placed increasing emphasis on public consultation as one of the more important checks and balances placed upon Managers and administrators of our public services. It only works if consultation is taken seriously and implemented to high standards. The IAP2 view is seriously out-of-date.