Community engagement finds a new Champion
Rhion Jones reviews Becky Hirst's book.
Becky Hirst believes in community engagement.
More than that; she LOVES it. Which is why her book is called For the love of community engagement.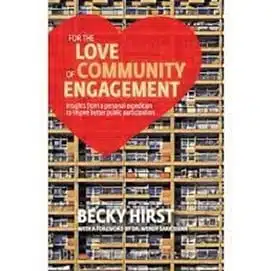 It is a 'must read' for anyone in this field. Full of relevant storytelling, interwoven with an account of her career and the contrast between her native Gloucestershire and her adopted home south of Adelaide in Australia.
Never underestimate the power of direct experience when compared with the sterile, safe, diplomatically-worded case studies that predominate in the world of community engagement. Here is an eyewitness who is not scared to admit to faults and failures. Her passion shines through and her infectious enthusiasm has clearly motivated others in both hemispheres.
The book works on several levels. The practitioner experiences are particularly strong from her days in the UK, helping Irish smokers kick the habit through contact with the Catholic church or leveraging a badminton tournament for Bengali waiters in Camden.
She is brilliant at creating labels. Terms that describe the methods as well as the motives; the reader is introduced to a torrent of them – concepts that are really useful to help define and develop community engagement practice. There is public-initiated participation, incentivised democracy and, best of all, her idea of a keynote listener. I am a little less convinced about the goosebump measure of significance!
She also knows what she doesn't like. Give up any thoughts of using a Have Your Say exercise anywhere near Becky Hirst. Neither will you find favour if you work for a local or national Government body which she characterises as promoting a top-down, organisation-centric, we-are-more-important-than-you-are style of community engagement.
At another level, the book explores the dilemma of squaring the circle between citizen-driven, bottom-up decision-making and the traditional downwards-facing consultative model. She would much prefer the former, and only just about accepts that maybe it is necessary to have both. The Australia she describes seems to have quite a lot of what they call tall poppy syndrome – where largely inaccessible self-important politicians demonstrate little appetite for listening. The exceptions make interesting reading. I rather liked her account of a resident at a Speak Out Session persuading an elected member of the mystical attraction of building a longer jetty on the foreshore. "Here was an elected official stepping out of the comfort zone of the Council chamber and engaging in a rich and diverse conversation about an important local issue."
For Becky Hirst, this is clearly what it's all about. Listening to people, especially those who may not have had a good hearing in the past. The Aboriginal word dadirri comes to her mind, for it means deep listening. It could be her watchword.
There is yet another level at which this book sheds a tantalising, teasing insight. To what extent can the bottom-up, citizen-centric direct democracy model co-exist with the representative democracy with which we are accustomed? Or it is more likely to destroy it? Or, at least to threaten to weaken current modes of accountability through the ballot box. Will the growth of grassroots engagement fuel the anti-politics culture that is a breeding ground for more extremist political movements?
This is no longer a theoretical debate. We watch developments in Italy with some interest, as the internet-based platform politics of the Five Star movement becomes integrated with legacy Parliamentary arrangements. One of their first acts has been sharp reductions in the number of Parliamentarians as citizens seek to cut the political elite down to size.
It is a journey with unpredictable outcomes, and a far cry from the author's recommended construct where communities take the decisions – and then allow Government institutions a role but only as and when they deem it appropriate. Maybe her next book should explore community decision-making further and tackle the difficult issues where communities can't agree and where community identities overlap and cause conflicts of loyalty.
In the meantime, her contribution to the literature is very welcome – especially as it is blessed and inspired by so much … love!
___________________________________________________________________________________
For the love of community engagement is published by Tablo publishing, 2021