Consultation and the need for better financial accountability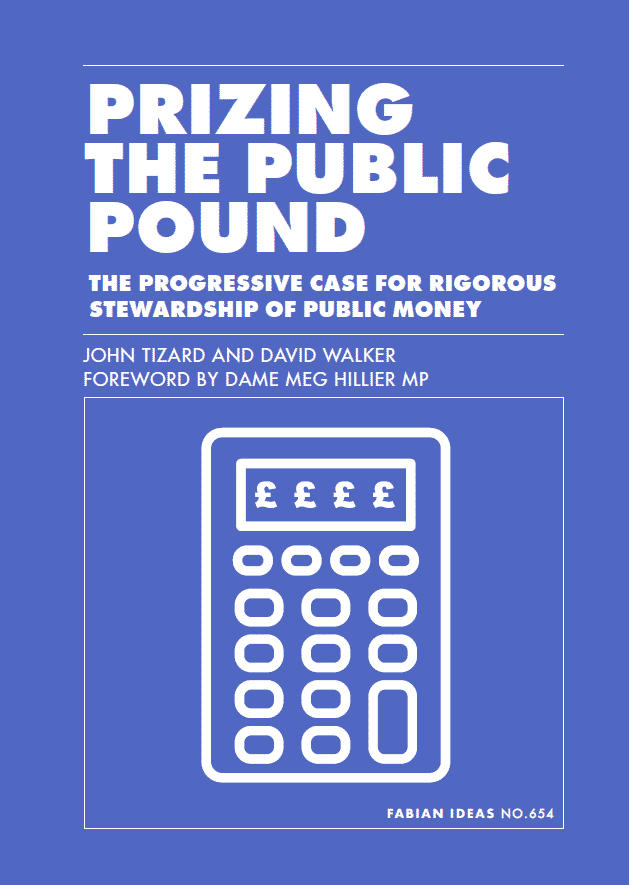 Rhion Jones finds much to consider in the new Fabian pamphlet "Prizing the Public pound"
Here is one of the first clear signals that the official Opposition is finally getting to grips with its urgent need to come up with significant policies to differentiate itself from the current government.
The new Fabian pamphlet is called: – Prizing the Public Pound: the progressive case for rigorous stewardship of public money. and is written by two respected and experienced left-leaning experts on local government – David Walker, once of the Audit Commission, and John Tizard, a policy specialist who advises many Councils.
In it, they make a powerful case that the traditional British approach of careful public finance accountability and processes to ensure value-for-money have been sadly compromised in the last decade. Although the National Audit Office (NAO) remains a beacon of propriety and excellence, they rightly point out that audits in local government and other public services have declined in quality and accessibility. In retrospect, they argue, abolishing the Audit Commission was a serious mistake  – and Eric Pickles' vision that if Councils published every bill and remittance, there would soon be an 'army of armchair auditors' has, thankfully, proved to be pipedream.
The paper highlights, (and the pandemic procurement muddles illustrate) the risks that are being run when there is limited scrutiny of public expenditure. It is not an analysis that Government Ministers will necessarily accept, but the authors assert that ensuring value for money is a major challenge for anyone who wants to make the case for more, not less public investment. These days, that is not just the Labour Party!. The high-profile problems that have beset Northamptonshire (which almost went bankrupt), Croydon (which took risky investment decisions) or Liverpool (alleged corruption) were all compounded by a lack of satisfactory financial audit. However, the problem is much wider and requires effective means of making informed choices in the first place; and also, being able to assess whether the outcomes constitute sound and effective use of public money.
Which is the point at which the authors' search for better stewardship of these huge sums overlaps our concern for better public consultation and engagement.
Several aspects spring to mind:
A healthy democracy needs high levels of public trust with confidence that the "numbers don't lie." Almost every formal consultation – and much that is, in effect, informal engagement relies upon consultees and stakeholders finding financial costs and benefits to be accessible, true, and accurate.
When consultations ask for views on competing options, there needs to be confidence that estimates of impacts and outcomes are credible. Earlier this year, the High Court considered a claim for judicial review of the proposed NHS service configuration in Watford (the Glatter case). At issue was the proposed cost of a promised new hospital and whether the local CCGs were right to exclude it from the options in the public consultation. The numbers matter!
Politicians and policy-makers are naturally drawn to making assertions about the outcomes achieved as a result of their decisions, policies, and programmes. A sound system would provide sufficient checks and balances as would prevent distortions, exaggerations or misrepresentations. No amount of independent fact-checking can substitute for a thorough audit process.
True audit is about the effectiveness of expenditure, ie – the relationships between input and outputs and outputs and outcomes. Only through robust mechanisms for tracing these relationships can realistic impact assessments be prepared. Often, this is not the domain of the bean-counters but of those who understand the services or projects being administered. And it is usually the stakeholders themselves who can identify or anticipate unintended consequences. That is why their views are important and why major expenditure proposals should always be subject to some form of consultation.
As politically-dictated outcomes increasingly rely upon multi-disciplinary – or departmental cross-cutting initiatives, there needs to be comparable ways of auditing across organisational boundaries. This is still substantially un-addressed as illustrated by the absence of any provisions for better audit in the plans for new NHS Integrated Care Partnerships – despite the obvious need to work across the local government and NHS sectors.
Nowhere will this be more evident than the emerging agenda for tackling climate-change. Most of the likely initiatives for meeting zero-carbon targets will lie beyond the competence (in both senses) of any particular body, and unpopular behaviour change will surely face opposition from those who will argue against public money being used for such purposes. The sums will be massive, and consultation and engagement will be used extensively to reassure citizens that their views will be considered. Without effective audit, their credibility will suffer.
The Fabian pamphlet recommends a Place Audit Office within the NAO, that can take a cross-cutting view and supervise standards of audit on a geographic rather than a functional basis. It also advocates an Office for Spending Effectively, much geared towards restoring evidence-based policymaking to its rightful place, and not unlike the Office for Budgetary Responsibility (OBR) in its independent positioning.
It reminds us a little of the Office for Public Engagement that we proposed in our 2018 book The Politics of Consultation. Like Walker and Tizard, we were concerned at the lack of any ability to enforce good practice standards for public services that are often delivered by a plethora of organisations many of which are well beyond any effective scrutiny. Creating new institutions may be unappealing to those who wish to avoid any further proliferation of bureaucracy. Yet, this is really about accountability and in the same way that consultation is, in part, a means to reinforce public confidence, finding ways to distinguish between real and fake (financial) news is a high priority. It is also a key ingredient in restoring and maintaining trust in our democratic infrastructure.
Prizing the public pound is a worthy contribution to this debate. It is comprehensive but not beyond criticism. For example, I would have liked to see more discussion of the successes and failures of the best value regime. I also feel it has somewhat underplayed the role of overview and scrutiny in local government. Neither of these points, however, take away from the validity of its core critique or the attraction of some of its recommendations. And neither should the debate be confined to the Labour Party. All political parties should be thinking actively about this issue. The parlous state of public accountability, be it financial, social or political, is an issue for everyone and underpins all commitments to involve our citizens in charting our paths forward.
Much fresh thinking is probably required here.
Prizing the Public Pound by John Tizard and David Walker is published as Fabian Ideas 654  click here to find out more.
This case was Glatter v NHS Herts Valleys CCG and West Herts Hospitals NHS Trust [2021] EWHC 12 (Admin). See also the Institute's Briefing Note  Deciding against a new hospital: The implications of the Glatter v NHS judicial review
The Politics of Consultation by Rhion Jones and Elizabeth Gammell.