Guest Article: Supporting Community Engagement need not cost the Earth.
How Newcastle Upon Tyne's Shieldfield Strategic Plan Supports Green Consultation and Engagement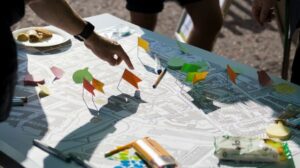 Photograph taken at the event by Matt Denham © 2021.
Following on from COP26, we are left in no doubt that climate matters are firmly on the agenda. For those engaging communities on sustainability and climate action, COP26 has further legitimised and empowered dialogues that have been happening for some time.
Strategic planning delivered of late has often been at pace, with no time for prior engagement. Road closures and cycle lanes have sprung up overnight in response to the COVID-19 pandemic. The media shares accounts of those bitterly embroiled in a marmite discourse. If we are to truly co-create healthy and inclusive spaces to work within the public interest and with a sustainable future, it is now time to take strategic planning back into the realm of Gunning's principles of engagement. Community engagement should be seen as a marathon through scheme conception and delivery, not a sprint at the end of a project.
Shieldfield is an urban community in Newcastle Upon Tyne with a high proportion of social housing and over the last decade increased university accommodation. Sophie Stanton, a Graduate Planner for Ethical Partnership (a consultancy based in Newcastle) shares her experiences of engaging and supporting a dialogue with residents, groups and businesses through volunteer led engagement activities to develop priorities for a sustainable cohesive inner-city environment. It is an approach that needn't cost the earth.
World Car Free Day was the catalyst for a Shieldfield Car Free Day in September 2021. In collaboration with local community groups Dwellbeing and Shieldfield Art Works, a local road was closed for the day to enable the community to experience traffic-free streets first-hand – a key concern in Shieldfield for many years.
The benefits of car free days, often seen through Low Traffic Neighbourhoods (LTNs), have already been acknowledged and Newcastle Council are already trialling the concept around the city. Areas include Salters Bridge on Hollywood Avenue, and Argyle Street Bridge along Ouseburn. More areas around Newcastle are set to be turned into LTNs after new plans were signed off by the council. Newcastle City Council has not yet said whether its first LTNs will be made permanent fixtures, however we hope that local involvement organised by residents – as seen with the Shieldfield Car Free Day – will highlight to the council the demand and need for such areas to become permanent fixtures.
Staffed by volunteers, residents and with support from local businesses, the community event attracted 100 people. Informal two-way dialogues on safer streets, low-traffic neighbourhoods, sustainable transport opportunities, and green spaces were framed within a Shieldfield context. Where comments related to specific roads or spaces, these were added to coloured flags on a mapping exercise directed towards attendees. This was a useful tool and visual aid in understanding the early priorities of the community. Following this, further sessions were held where more detailed discussions of priorities were harnessed. Overall, the event demonstrated the value of a return to face-to-face engagement in a post-pandemic climate, where a solely technologically driven approached would have significantly limited participation and engagement.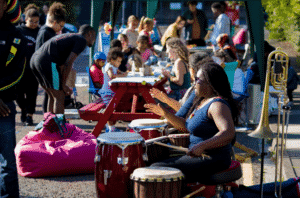 Photograph taken at the event by Matt Denham © 2021.
Additional opportunities such as informal consultation sessions with a diversity of local populations and stakeholders, including door to door canvassing by volunteers extended the reach of engagement whilst creating a more personal face to face engagement avoiding technology-based discussions. Although online methods were an option, this approach was taken as many members of the community do not have access to the internet; and face-to-face approaches remove their barriers to participation. Additionally, the ethos of the approach looked towards a 'hands on' experience, encouraging people to come together from all backgrounds in a safe place to discuss.
The engagement is now enabling the data driven priorities derived from the heart of the community to inform strategic plan making. The need for continued transparency, open dialogue and engagement remains critical to building support and buy-in from the community and further events and communication exercises are proposed.
But perhaps the most important message here, is where there are established networks and people who want to get things done and achieve their ambitions for the place where they live, these resources should not be overlooked.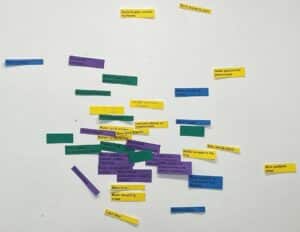 Photograph taken by the Author Sophie Stanton during an informal consultation meeting 2021.
Sophie shared:
"taking part in the organisation and hosting of the Car Free Day in Shieldfield was extremely fulfilling, not only for gaining experience in this approach to planning but also emotionally. I was able to see how our hard work as volunteers allowed us to create an approachable safe and engaging space for locals to meet, greet and share their views and ideas with us. It was particularly heart-warming to see the amount of support we had from donations and local charities."
The ethos of this movement is very important for the future of inner-city neighbourhoods. Recognition needs to be given to this approach of creating healthy and inclusive spaces to work within the public interest and to create a sustainable future. Communities want to be listed to, not talked at! Organic approaches like this can considerably reduce intimidation and other barriers to engaging with strategic planning; encourage people to ask questions; and promote genuine dialogue around the changes our cities need to go through to make them more resilient, better places to live.
About the Author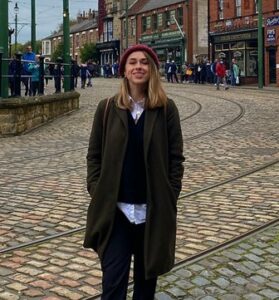 Sophie Stanton is a Graduate Planner for Ethical Partnership and SLC Property, based in Newcastle Upon Tyne. Sophie holds an MSc in Urban Planning and a BA in Human Geography. Sophie has a passion for working with communities, planning in the public interest and conducting research across social heritage, inclusivity and diversity. The Author has produced other articles which are available at: https://ethicalpartnership.co.uk/news/
You can connect with her via LinkedIn: https://www.linkedin.com/in/sophie-stanton-763772224