Have lawyers changed the politics of consultation?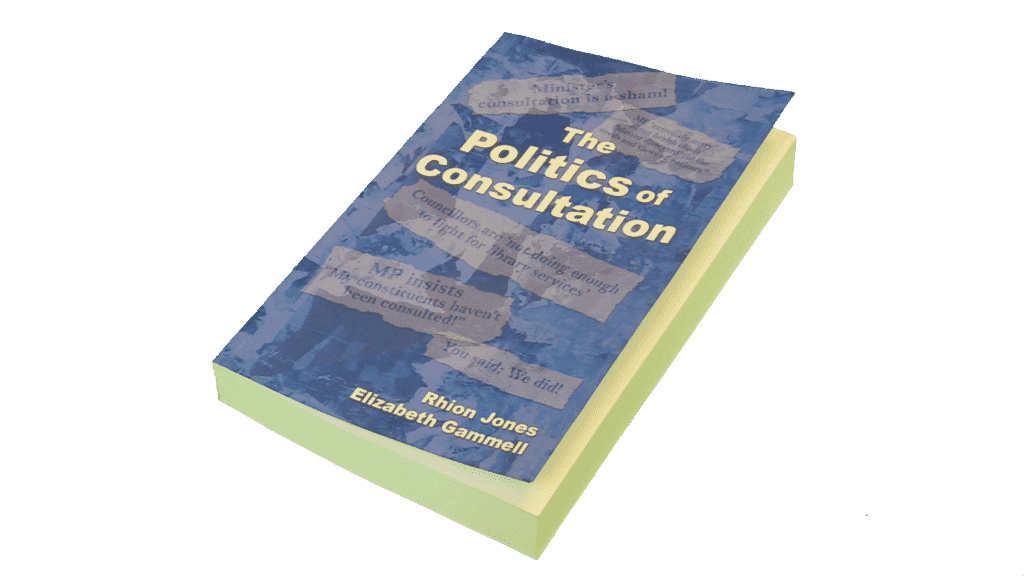 When we wrote The Art of Consultation in 2008, we barely mentioned the law.
Actually, there were some High Court cases but few received any publicity.
Public engagement practitioners were vaguely aware that serious mistakes made in organising a public consultation could attract a solicitor's letter, but few contemplated that they would face a Judge, and the need to employ expensive QCs bewigged and be-knighted to argue their case.
This has all changed. But why?
The Politics of Consultation tackles this intriguing problem.
Did politicians create the change in the legal environment? Or did Judges intervene to correct abuses in the system once people felt emboldened to challenge poor consultations?
No doubt about it. Politicians gave them the opportunity. For years they have enacted legislation providing for consultation to take place under various conditions. They tried to keep things vague; a favourite formula was to oblige a Minister to consult 'whoever(s) he believes to be appropriate.' Over time, though, people started to take them at their word. Consultation moved from being a rhetorical flourish at the hustings to a real process – and if stakeholders didn't like it, they looked for somewhere to complain.
There was no ombudsman and the media were not interested unless there was a personality story to lighten the policy-speak. The Courts basically came to the fore because of the paucity of other avenues of objection.
If there is one thing we know about Judges it is that they take themselves and the issues very seriously. If the politicians said they wanted to consult, then let them do it properly!
Nowhere is this better illustrated than in the famous judgment of Lord Kerr in the Supreme Court in 2014. Under appeal was a decision on a consultation run by the London Borough of Haringey. It concerned a new housing benefit scheme which Parliament had decreed was subject to local consultation. Lower Courts had hesitated to break new ground, but as the Supreme Court unanimously found for the claimant, it stressed that it was so as the public could "participate in a meaningful way in the decision-making process" – an assumption we suspect exaggerates somewhat the Government's real intentions.
Parliament gave the Judges another potent weapon. The 2010 Equality Act built on previous legislation and confirmed that decision-makers must have 'due regard' to the impact of their policies on protected categories of people. Ministers have found this very costly, having flagship policies like abandoning the Building Schools for the Future programme or the end of the Independent Living Fund successfully challenged in the Courts.
In a single decade we have moved from judicial reviews against public consultation being an exotic rarity to a constant threat, colouring the way many public bodies approach the exercise. On our calculations, there are, at any one time nowadays, ten serious challenges to public consultations that are likely to come to court. Double that if we include those that will settle or abandon their cases before getting there.
Lawyers may disagree, but we are not sure that all this is a good thing. Excessive legalism does not necessarily make for better consultations. Among the unintended consequences of the rush to courtrooms is the incentive to avoid consultations altogether. In a recent case in Hertfordshire, the NHS wanted to close a jointly-funded respite care home. It had been advised to 'engage' rather than 'consult' – so as to avoid the rigours of the Gunning Principles. These are the rules by which consultations are judged by the Courts and welcome as their enforcement may be, undue rigidity of their application can sometimes lead to strange and unpredictable results.
We may well have sympathy for managers. It was politicians who burdened them with a duty to consult, and then removed from them much of the discretion or the financial flexibility to make their proposals palatable to local communities.
In The Politics of Consultation we explore some of these complex dynamics, but we do so primarily by trying to learn lessons from the dozens of real-life stories that we have observed since the Consultation Institute opened its doors in 2003.
The intervention of the Courts is a classic case of cause and effect. Politicians and civil servants who, today, invite the public's views, do so in the knowledge that they must get it right, or incur the costs and inconvenience of judicial review.
Time, therefore, to take it seriously.
Institute members will be given opportunities to order The Politics of Consultation ahead of the publication date. Follow the www.consultationinstitute.org website for further information.