If I had a hammer, I'd hammer in the morning … and other cognitive bias
Earlier this year, my colleague Andy Mills wrote an excellent article on the relations between various road users around active travel schemes citing the song 'People get ready' by the Impressions. Amongst other things this article gave an insight into the difficulties in achieving consensus around contentious issues, such as the tension between being on the side of the motorist and addressing issues around climate change.
Continuing the musical theme, I recently found myself in a motorway services with Andy, faced with the choice between an egg or chicken sandwich, which put me in mind of the Paul Simon song 'Mother and Child Reunion.' Simon's song was inspired by a chicken and egg menu item common in restaurants in New York's Chinatown known as "mother and child reunion" or "mother-daughter reunion". This simple choice often represents a phenomenon seen in co-production practice. Co-production provides a really useful asset-based approach to developing responses to knotty problems, particularly around policy and practice. However, it can also lead to situations where unequal outcomes are created and the partners in co-production are not able to determine a way in which 'losers' consent' is considered. In other words, no mechanism is put in place to manage the circumstances in which two potential solutions are developed, and consultors are left trying to solve the 'chicken or egg' problem of which is most acceptable and managing the concerns of those backing the 'losing' option.
Stretching the bounds of musical credibility to the limit, this bring us to the main theme of discussion, If I had a Hammer, popularised in the UK by Trini Lopez in 1963. The song was originally written in 1949 by Pete Seeger and Lee Hays as a folk song supporting the American progressive movement, and like People Get Ready adopted by the American Civil Rights movement. The song speaks of the power of a hammer to "…hammer out danger, hammer out a warning…all over this land…" In fairness, the song does go on to include a bell and a song, but the fundamental issue of over reliance on a familiar tool is clearly illustrated in verse. The reliance on a single approach is characterised by the famous quote by Abraham Maslow[1] (yep, the Hierarchy guy).
"If all you have is a hammer, everything looks like a nail."
With the continued policy push for co-production, there is a danger of overlooking other approaches that may be better suited, instead reaching for our trusty hammer. This form of confirmation bias leads us the belief that a single approach is the solution to every problem.
At the Institute, we have honed an approach based on best practice and extensive experience which allows us to analyse the circumstances of a proposed co-production/co-design scenario to establish if this is the right approach, addressing the hammer conundrum. At the same time, we have a range of techniques to work with consultors and partners in the co-production process to establish consent on decisions around solutions selection to address the mother and child reunion. We have also developed this thinking into a four-step practical programme of professional development, working in a mixed classroom and practical setting.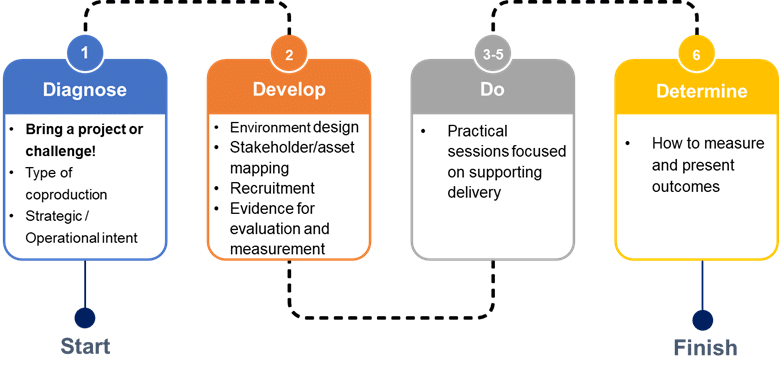 Enrol onto our upcoming public training course, 'Co-Production for Public Engagement and Consultation', for an introduction to the outline principles of co-production and to continue your journey towards an environment of shared power and decision-making.
If you're interested in this course as an in-house option, please get in touch.
---
[1] The Psychology of Science, 1966