Introducing greenMIDAS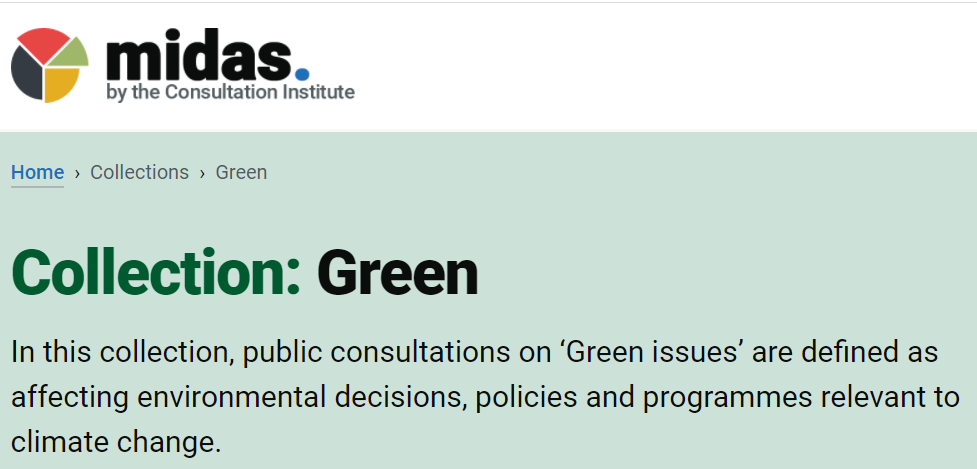 Shared learning from climate-change consultations
Consultation Institute announces greenMIDAS
If there was ever a time to focus on effective public engagement, this is it. COP26 has, as predicted, raised the profile of climate change as the most pressing global issue and one with implications not just for governments but for individual behaviour everywhere.
Not even in autocratic states like China do they believe this is do-able without public support. In democracies, there is the added difficulty that unpopular policies and unpopular politicians can be voted out of office. They either win the argument or lose their seats!
Happily, there is no shortage of innovative participative and deliberative methods of involving people. We have lost count of the number of Glasgow-bound organisations promoting citizens' assemblies and other 'climate engagement' initiatives. They are flavour of the month.
But public consultations are equally important. They are better at offering choice between various ways of tackling wicked issues, and unlike other methods, they are legally enforceable. Learning how to do them well is a critical element in moving to a zero-carbon world.
So, the Institute's contribution is to assemble together as many 'green' consultations as possible – as a shared-learning resource for those who plan and conduct such exercises. greenMIDAS is already a collection of over 100 consultations – mostly in the UK, giving access to important insights into the best ways to engage with public and stakeholders on these topics. That figure will grow rapidly. Over the coming months and years, it will develop into a truly comprehensive dataset – useable by anyone needing to understand the dynamics of public consultations.
Users of greenMIDAS will, for example have easy access to information, such as:-
How the London Borough of Havering and others have consulted on a charging infrastructure for electric vehicles.
How National Grid structured an online questionnaire on the Humber Low Carbon Pipeline project (Zero Carbon Humber)
Examine the options published by the European Commission 6 months ago in its consultation on new Forest strategies – and question when the output may be available
Explore why the DBEIS (Dept for Business, Energy & Industrial Strategy) 's call for evidence on a high renewable, net zero electricity system received 103 published responses, whereas DEFRA (Dept for the Environment, Food & Rural Affairs) only received 6 responses to its 2021 consultation on updating its UK Plan for the shipment of wastes!
Look at Blackpool Council's consultation on its Climate Action Plan
Assess whether the 402 responses to the Welsh Government's consultation on its Transport strategy is better or worse than could be expected for this subject
Check how many exhibition sites were organised by TfL (Transport for London) in its 2017 consultation on a Cycle Superhighway from the Kensington Olympia to Brentford.
Investigate what was published after the DWP (Dept of Work & Pensions) consulted on proposals for trustees of pension schemes to address climate change.
Consider Edinburgh Council's consultation on a proposed Low Emissions Zone – with an output report currently long overdue.
Compare TfL's approach to cycling-related consultations with the Dublin City Council consultation on proposed cycle facilities in the Strand
Study the Climate change and air quality questionnaire for young people published by the London Borough of Richmond upon Thames
Explore the mixed engagement methodologies used in Wiltshire Council's Climate strategy consultation during the pandemic.
Explore the initiative to collect residents' ideas for climate action through Bournemouth, Poole and Christchurch Council's Ideas Board as part of their Climate Action Plan Consultation.
An example of a green consultation on MIDAS can be found here.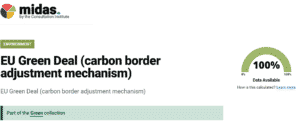 The wider MIDAS service is an excellent archiving and benchmarking tool, with access to the basic information already available to Institute members.
As thousands of NGOs, trade associations and stakeholder organisations gather in Glasgow, from all over the world, we will also be offering them greenMIDAS as a learning resource. Like us, many will be tired of having to re-invent the wheel, and taking too long to prepare public involvement when time is critical and the clock is ticking.
If you would like to know more, get in touch for more details.