Vacancies
Are you looking to advertise a consultation & engagement related vacancy? Advertising with the Consultation Institute is an effective way of reaching the UK's public consultation & engagement community. Your vacancy will appear on our website, newsletter and across our social media channels.
If you're an Institute member, you're entitled to free vacancy advertising on our website. Otherwise, the fee for this service is £149.00 + VAT, for a maximum advertising period of six weeks.
For more information on this service, get in touch with Sarah Jobling.
Consultation and Equality Adviser
Team: Communications Insight and Engagement
Salary: £44,735 – £48,659 per annum
Base Location: Home working and office or site visits as required~
Central Bedfordshire Council has its own vision and values that are integral to everything we do. Our area vision is to make Central Bedfordshire 'A great place to live and work'.
Our team provide communications, engagement, consultation and equality support to the council. The team also provide intelligence about staff, communities & customers through data analysis.  These activities support the Council to undertake lawful strategy, policy and service development and evidence – based decision making which meets the needs of residents.
As a Consultation and Equality Adviser within the Transformation Directorate, you will find your greatness by supporting the Council to:
Consult effectively with residents, service users, carers and wider stakeholders on changes to services many of which can be sensitive and complex. And
Help make Central Bedfordshire a great place to live and work for everyone by supporting inclusion and fairness and delivering the requirements of the Public Sector Equality Duty.
For an informal discussion about this position, please contact: Clare Harding Community Intelligence Manager at Clare.Harding@centralbedfordshire.gov.uk or on 0300 300 6109
For queries related to the recruitment of this vacancy, please contact: The Recruitment Team at recruitment@centralbedfordshire.gov.uk
Click here for a more detailed job description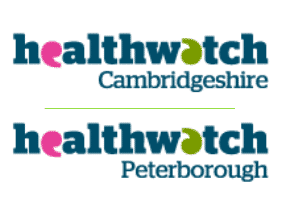 Communications Officer
Salary: £27,750 p.a. – plus an 8% employer pension contribution and a golden hello.
Use your creativity and enthusiasm to help us be a champion for people using health and social care services in Cambridgeshire and Peterborough.
The role involves working closely with our different teams, writing news stories, blogs and advice articles and helping to edit and launch our reports.
You'll also help to manage our social media channels and develop our video and other digital content.
For an informal chat about this role, contact Angie Ridley, Communications Manager at angie.ridley@healthwatchcambspboro.co.uk or call 0330 355 1285.
Please complete an application form on one of our websites to apply.
https://www.healthwatchcambridgeshire.co.uk/work-us
https://www.healthwatchpeterborough.co.uk/work-us
Apply by Sunday 12 June 2022
Interviews planned for week beginning Monday 20 June 2022