What's wrong with the consultation on privatising Channel Four?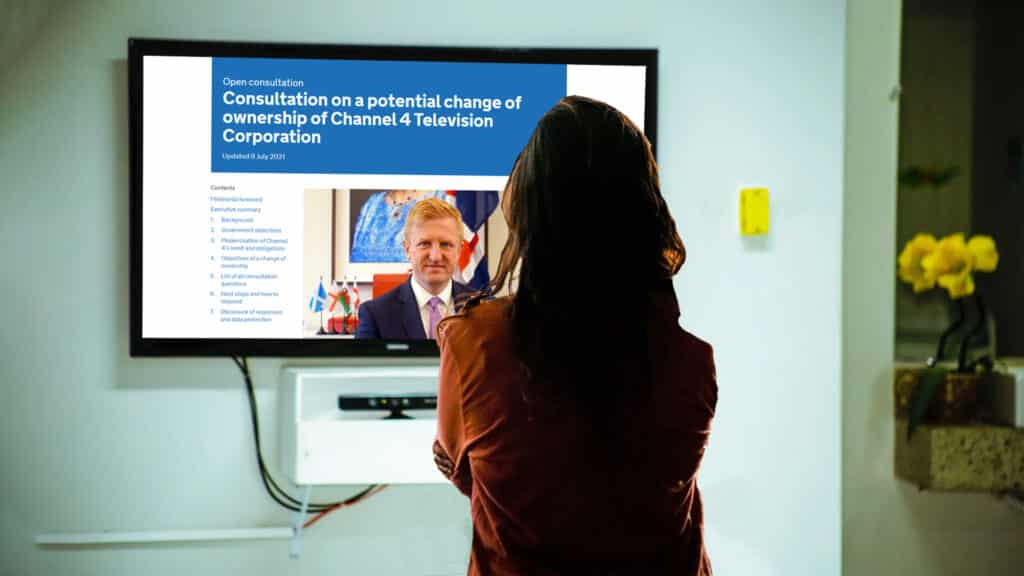 A Government too eager to push its 'preferred option'
There is something quite simple about a good, well-designed, honest consultation.
It explains the situation, identifies the issues that concern people, shows how these were assessed and how various potential solutions – and their likely consequences have been developed and considered. Then it reveals the options that are available and asks consultees for their opinions. When consultors then come to take a decision, they can do so with the benefit of a solid body of evidence as to what respondents of different backgrounds and interests think about the various alternatives. That is the essence. It is not a vote – merely a means to make policy, take decisions or prepare programmes that take account of the best available information and viewpoints.
These days, Governments and public bodies strive to get most things right. There is no shortage of Guidance. We have the Government's own Consultation principles, a comprehensive body of law and of course, our long-standing Consultation Charter.
Set against many of these norms, the DCMS consultation on "a potential change of ownership of Channel 4 Television Corporation." looks reasonably good. It has a well-presented, well-referenced and thorough description of the issues, full of pertinent facts and figures. That title is also well-chosen, clearly suggesting that this idea is far from a done deal.
But, unfortunately, done deal is very much what it seems to be. The pivotal sentence is this.
The government's preferred option is to facilitate a change of ownership of Channel 4, in order to ensure it has the best chance of a successful and sustainable future, ultimately contributing to our plans for growth in the sector and wider creative industries, as set out in the government's Plan for Growth
Note the use of the term 'preferred option'.
Where, therefore are the other options?  How did this particular solution become the preferred one? Were any other solutions considered, other, presumably than the status-quo? In which case, what were considered to be the relative impacts? Who was party to those pre-consultation discussions? There was nothing in the Conservative Party Manifesto in 2019 that might enable the Minister to claim that the policy was settled, and that the consultation should only be about the method of implementing it. This is an ab initio consultation on a new policy direction, and best practice would almost certainly require a conscientious exercise to review a range of potential alternatives and provide a rationale as to why the preferred option was the best.
Government lawyers would do well to heed the words of Lord Reid in the Supreme Court case of Moseley v London Borough of Haringey [2014] SC 56.
" … enough must be said about realistic alternatives and the reasons for the local authority's preferred choice to enable the consultees to make an intelligent response."
Lord Wilson, in the same case went further: –
"Sometimes, particularly when statute does not limit the subject of the requisite consultation to the preferred option, fairness will require that interested persons be consulted not only upon the preferred option but also upon arguable yet discarded alternative options."
"But, even when the subject of the requisite consultation is limited to the preferred option, fairness may nevertheless require passing reference to be made to arguable yet discarded alternative options. …"
Both were talking about a Council scheme to accommodate reduced Housing benefits, and subsequent case law has confirmed that the extent to which 'alternatives' should be published and considered can vary with the context and the nature of the intended audience and how well informed they might be. In the most relevant recent case on pre-determination in Government – Petsafe v DEFRA [EWHC 2813] a very rudimentary consultation on electronic collars was ruled lawful, but the Judge went out of his way to stress that
"If the purpose of the particular consultation is general public participation in a wide-ranging consultation, then there might be a duty to make some reference to discarded alternatives. This will particularly be the case where the general public cannot be expected to be familiar with the issues."
So, in the Channel Four case, is this a consultation where the general public might be deemed to have an interest? Presumably, yes. It is watched by millions of people, and who owns the channel could be of immense importance at least to some of them. Can DCMS withstand a legal challenge on the basis that its preferred option really fulfils the Gunning One principle that proposals must be at a 'formative stage?  A judicial review could well be a possibility.
There are, though, other tell-tale signs that consultations may be pre-determined. One is the lack of evidence of pre-consultation dialogues. Our MIDAS database now seeks to highlight where there has been significant engagement with key stakeholders – and where consultees can have confidence that likely impacts have been assessed. In this case, DCMS has published no Impact Assessment. This is strange as one of the achievements it champions for Channel Four is its contribution to a more diverse broadcasting landscape and specialist programming. Why therefore did the Department's equalities advisers not insist on an Equalities Impact Assessment (now Analysis)?
Instead, the consultation relies on the old trick of going to its consultees and asking them to identify what they might be. It is always a cop-out. It is the responsibility of those who make the proposals to table their assessment of the likely impacts and to invite views upon that assessment.
The questions themselves are few and have been criticised for bias. We have seen worse, but the main weakness is that they smack of "Do you agree with us, and if you don't where is your evidence …?" A number of them are ambiguous in that they can be read in more than one way. When, for example it seeks views on whether the restrictions imposed upon Channel Four as a producer/broadcaster should be retained, or whether some of its public service broadcasting obligations should also be retained, it is not clear whether this is intended in the context of the Government's preferred option (i.e., privatisation) or whether such changes can be considered as part of an alternative solution. In other words, are the responses all to be analysed in the context of the preferred option, or can they be considered as part of alternative solutions upon which the consultation paper has remained totally silent.
There are many interest groups who feel strongly about the ownership of Channel Four. The Consultation Institute has no view on this. Our concern is solely about the process – and for policy changes to work well, Governments need to ensure that their consultations are fair and comply with the rules. This particular consultation meets many of the best practice standards that we advocate but fails for not having offered consultees the choice between alternative proposals.
This consultation now features on the brand new Institute MIDAS database, and this provides interested people with the opportunity to comment and to engage in debate about the exercise. Find it here.