Why write about the Politics of Consultation?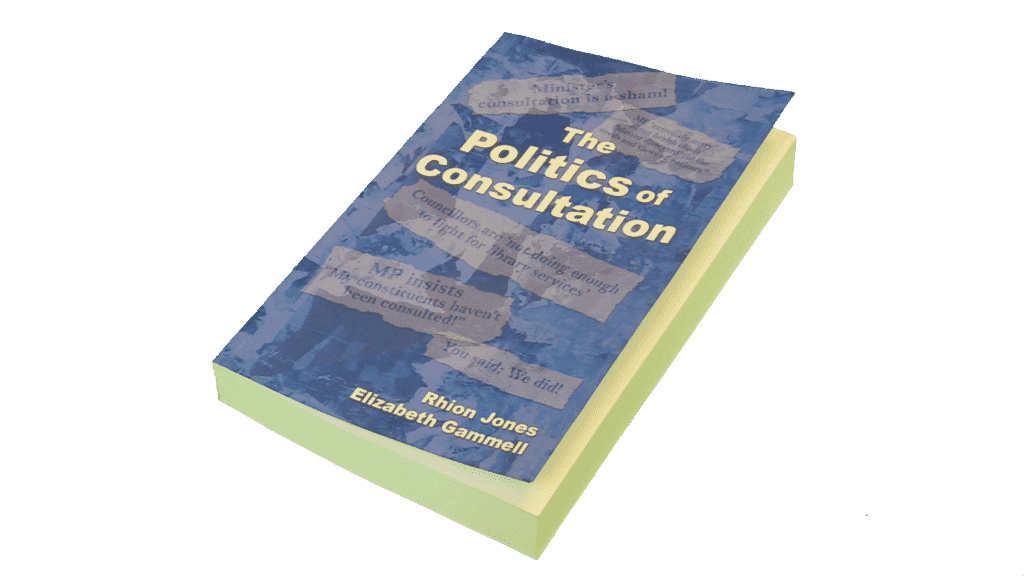 Countdown to publication. 
On 12th July, the Institute publishes The Politics of Consultation. Each week till then, Rhion Jones and Elizabeth Gammell discuss issues raised in the book.
Society is ambivalent about consultation.
Many people view it as bureaucratic waste of time. A chance to give the impression of action whereas in fact there is none. A form of institutionalised procrastination?
In their eyes, the Emperor Nero, whilst contemplating the fires burning in his capital not only played the fiddle; he probably ran a public consultation as well.
Such is the image of powerful elites condescending to seek the public's views – probably too late and usually about the wrong things. No wonder there is consultation fatigue.
So why is there so much of it? Is the public stupid? Are busy stakeholders content to play along with this charade? Or is it possibly that there is more subtlety and complexity to the question?
We set out to write The Politics of Consultation because we realised that the technical challenges of consulting the public are relatively straightforward when compared with the range of issues thrown up as politics intervenes.
There is no shortage of methodological and process challenges. We wrote a whole book about them in 2009. It was called The Art of Consultation. We then realised that it was the overlay of political forces that made it so difficult.
Every profession has its technical parameters. Imagine an architect designing a high-rise building, needing to factor in the fixed forces of gravity, wind, ground conditions, the characteristics of materials and the practicalities of its likely use. What the public engagement equivalent has to consider is that the political winds can also shift – quite abruptly and that seismic changes can literally shake the ground from under you.
Consultation is often berated by those who worry that it leaves power structures relatively intact. They yearn for more democratic sharing of power and cannot see this being furthered merely by hearing the views of those affected by their decisions. Good luck to them. There are many circumstances where this should rightly happen.
But until it does, consultation is the next best safeguard to help ensure that decision-making is more accountable. In a world where we are dumbing down every debate and trivialising the most tangible issues, accountability matters, not least because it obliges those in power to come clean about who decides what.
Consultation challenges the opaqueness of policy-making that dissuades so many from engaging in democratic dialogue. What is the point of expressing your view if the decisions are actually taken by someone else who will never hear your argument?
The continuing Windrush scandal reveals the truth that politicians hide behind civil servants and vice-versa to a remarkable degree. Think Grenfell Towers or Hillsborough or Mid-Staffordshire. The ability of the establishment to obscure and obfuscate is well proven. Consultation is but one of the toolkits of accountability that can help lift the veil of secrecy that still infects parts of our body politic.
As The Politics of Consultation demonstrates, it is not all bad news. There are heroes as well as villains. In fact, the some of the bigger culprits may be found, not among consultors but among the consultee community. They have often colluded with the choreographed simulation of consultation and kept quiet when the process is a sham for fear of upsetting powerful consultors with whom they needed to preserve good relations. It cannot continue, and a better-informed understanding of the politics of consultation is a potential starting-point.
This is not the definitive academic analysis – rigorous research is sorely needed in this field. What we have done is drawn from our practical experience over fifteen years of the Consultation Institute's existence. We tell stories, as many of them provide useful insights into the real-world dynamics of a society that is slowly but surely groping towards a more consultative culture.
Treat this as an update on work-in-progress.
Institute members will be given opportunities to order The Politics of Consultation ahead of the publication date. Follow the website for further information.