Autumn/Winter training calendar released! Booking now available
We are pleased to present the comprehensive Institute training calendar for A/W 2022. You can now browse through the available public courses for the rest of the calendar year, and easily enrol onto any course.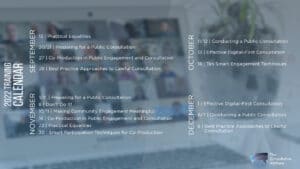 We will continue to deliver public training virtually, where you can continue to connect with those in the consultation and engagement community and get trained by experts in the field. In light of Institute member feedback, we will be trialling the return of face-to-face public training in 2023.
Click here to view our A/W training dates.