Thinking about 'unnecessary barriers'- user interface and experience in consultation
Last year, we saw judgment handed down in the Northern Ireland Court of Appeal on Patrick Lynch v The Boundary Commissioner for Northern Ireland. It wasn't a case we covered in great detail, mostly making reference to it in other articles, because it didn't particular reveal anything new or raise any novel points of law. One of the comments made by the judges in the case was that the Boundary Commission had 'unnecessarily erected' barriers to response.
This week however we were reminded of that comment. A new joint consultation from the Ministry of Defence and the Home Office on immigration fees for non-UK service personnel came across our desks, which drew our attention. Like most recent consultations there is a clear tilt in favour of online response, though alternative forms of response are available. The web form for response however is new to us. Clicking on the response link to the consultation takes you to a (to us, new) page, built on free open source software, with a long list of MOD surveys.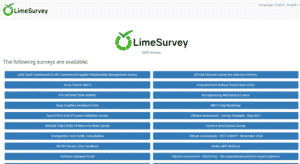 There are a couple of things that occur to us about this page. Firstly, after a bit of investigation we discovered that once you have completed the form once, you cannot do so again. This could be a problem if multiple stakeholders in a household wish to complete the form (potentially a specific problem here where non-UK service personnel may have dependents who wish to individually respond).
The second problem is potentially with the user interface- it isn't exactly user friendly. When you click on the response link, instead of being taken to the response form, it takes you to the list of surveys, where you have to search for the consultation again. Although these aren't the only problems (for more, see the consultation's entry in tCI's exciting new Midas database here, which looks at the consultation in more detail).
It was this second point that got us thinking about the 'unnecessary barriers' criticised in Lynch. To what degree might something like a bad UI constitute an 'unnecessary barrier'? It seems unlikely that any court would find such a thing a sufficiently dramatic problem as to render a consultation unlawful, unless evidence could be adduced to show that it had had a significant impact on response rates. But as we saw in the MOPAC case, just because something is lawful doesn't mean it should be done, or even meets basic good practice standards.
Although unlikely to render the consultation unlawful, it is amply possible that people might be discouraged from completing the survey due to the 'barrier' of a bad user experience. Particularly in a consultation such as this, where the response rate may well be fairly low, any impact thereon could be damaging to the general integrity of the consultation. The same would apply doubly if you were expecting many responses from people whose English was not so strong.
Consultors should think very carefully about this sort of thing, and about adding unnecessary steps to response. Although these may not be hard barriers to response (though the first point we highlighted about only one person being able to complete the form might fall under this category), they may form soft psychological barriers. As a general rule, responding to a consultation should be made as simple and straightforward as possible, and this extends to the systems used for response.
So have a think about your own systems- are you thinking about all the barriers, both soft and hard? Have you thought about how your systems look from outside? Have you done all you can to ensure that your engagement processes are as open as they can be? The MOD don't seem to have done so- perhaps they need to go back to basics after the pandemic, especially if they intend to keep using digital-first consultation.
This consultation on immigration fees is one of many already in the Midas database. Midas is a new two part resource from the Consultation Institute. The first part is a data warehouse, containing detailed searchable information on a huge range of public consultations. The second is a dispute resolution service for consultors and consultees. The entry on the Immigration Fees consultation can be found here, and more general information can be found here.